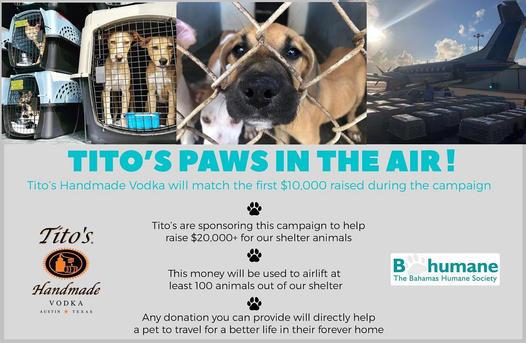 Tito's handmade vodka is sponsoring our campaign to airlift as many healthy animals out of The Bahamas Humane Society shelter as possible and into loving homes in the United States! 🇧🇸 ✈️ 🇺🇸
Tito's has offered $10,000 if we can match it!! Help us raise AT LEAST $20,000 to get pets out of our overcrowded shelter!
There are not enough local homes on our small island. The Bahamas Humane Society is a no-kill shelter and we are continually over capacity. We have record numbers of dogs and pups at the moment who are desperately waiting to be adopted.
Did you know that Royal Bahamian Potcakes are now a registered breed with the USDA 🙌 🐕
Please help us get our beautiful animals into loving homes 🙏 Our campaign is running until 30 April.
THANK YOU @titosvodka for your support ❤️ 🐾 Thank you to everyone who donates!
Donations can be made at the Shelter or online.
Please specify 'PAWS IN THE AIR' when you make your donation.